Dining Power Couples: How to Match the Perfect Table and Chairs
When designing a dining room, the table and chairs are the most important pieces to choose. How do you choose the right table and chairs to fit your style? And another task, how to pair these pieces so they suit each other and the room?
We have put together some top tips for choosing the perfect dining furniture for you!
Begin With Your Dining Table
The table should be the foundation of a dining room. It is the largest piece that will be in the room, so it is a good idea to start with this and then work the rest around it.
For a smaller room a round or oval dining table can work best to make the most of the space. If you have a larger space a rectangular table is a great fit and even an extending table for larger families or frequent hosts.
Choose Different Colours and Materials
When making your decisions for a table and chairs it is wise to invite contrast. These pieces take up a lot of space in a room, so you don't want a solid block of colour. You can break this up by having different colours for tables and chairs and having different material chairs to the table can add texture and depth.
If you are going with an all wooden set of furniture a good way to do this is to add a rug, especially if it is a similar material to the flooring in the room.
Measure Everything
A sure way for a dining room design to fall apart? Not measuring everything before purchasing. The obvious thing with this is to measure the space to ensure that all the furniture will fit in the room well.
It is also important to measure the individual pieces as well. Such as having the right seat height so you can sit in at the table comfortably and checking the height and width of the chairs that will allow them to fit well under the table. Sometimes these can be forgotten while just focusing on the size of the space.
Below we have some of our top picks for marvellous matches to fit different styles and spaces.
Heathfield & Cody
Our stunning Heathfield Holburn Dining Table is a slick city chic design which also brings a rustic feel to a room. A sumptuous solid oak piece which brings a hint of classical character to a space. This comes in small and large so can be incorporated into different sized rooms.
Paired with our stylish Cody chairs is a match made in heaven.
(The Cody Dining Chairs come in Violet and Tan)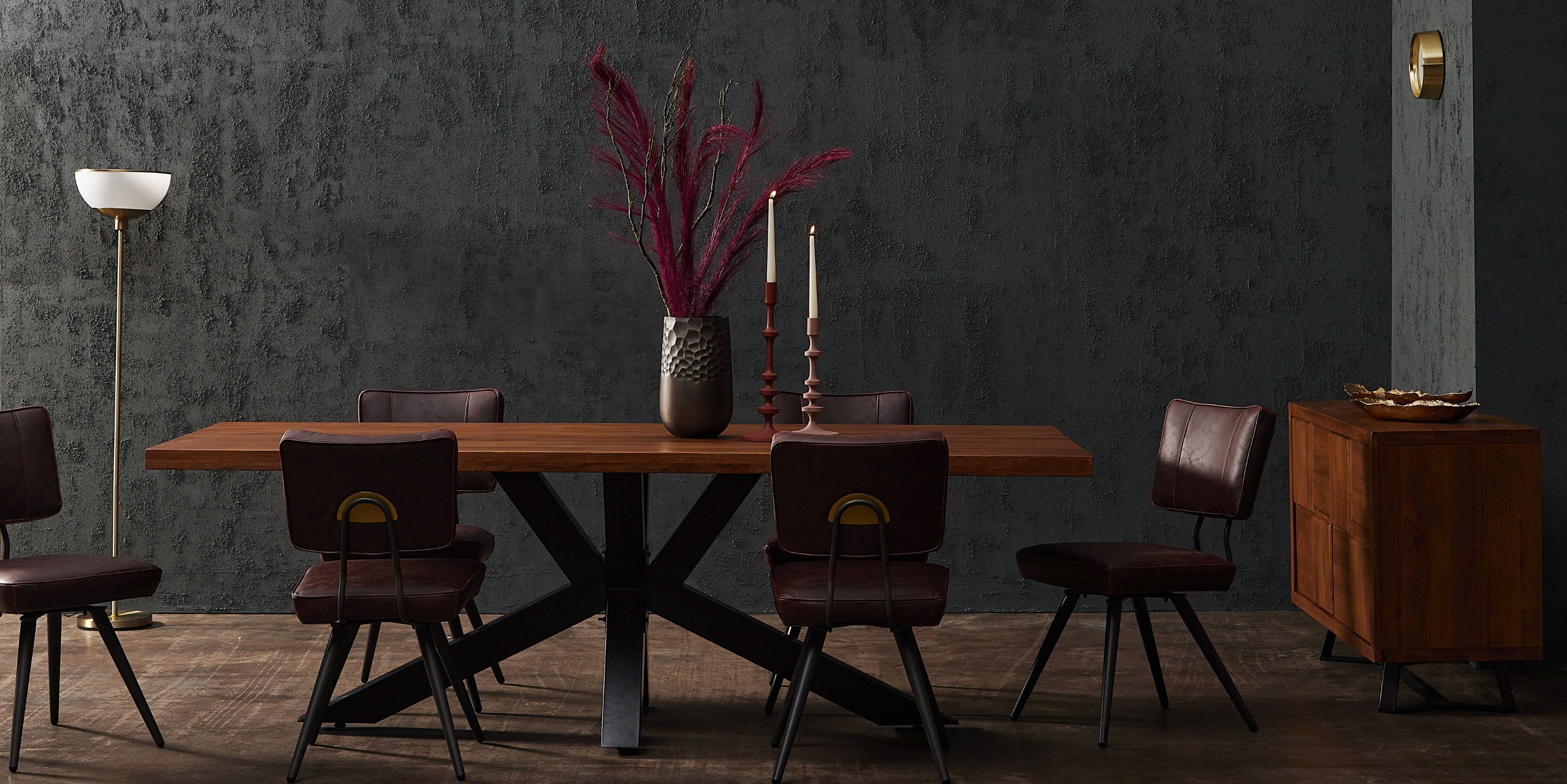 Heathfield & Winston
Another brilliant match with our rustic Heathfield Holburn Dining Table is the gorgeous Winston Dining Chair. These chairs are slick and modern while also incorporating a rustic charm.
(The Winston Dining Chairs come in Tan and Grey)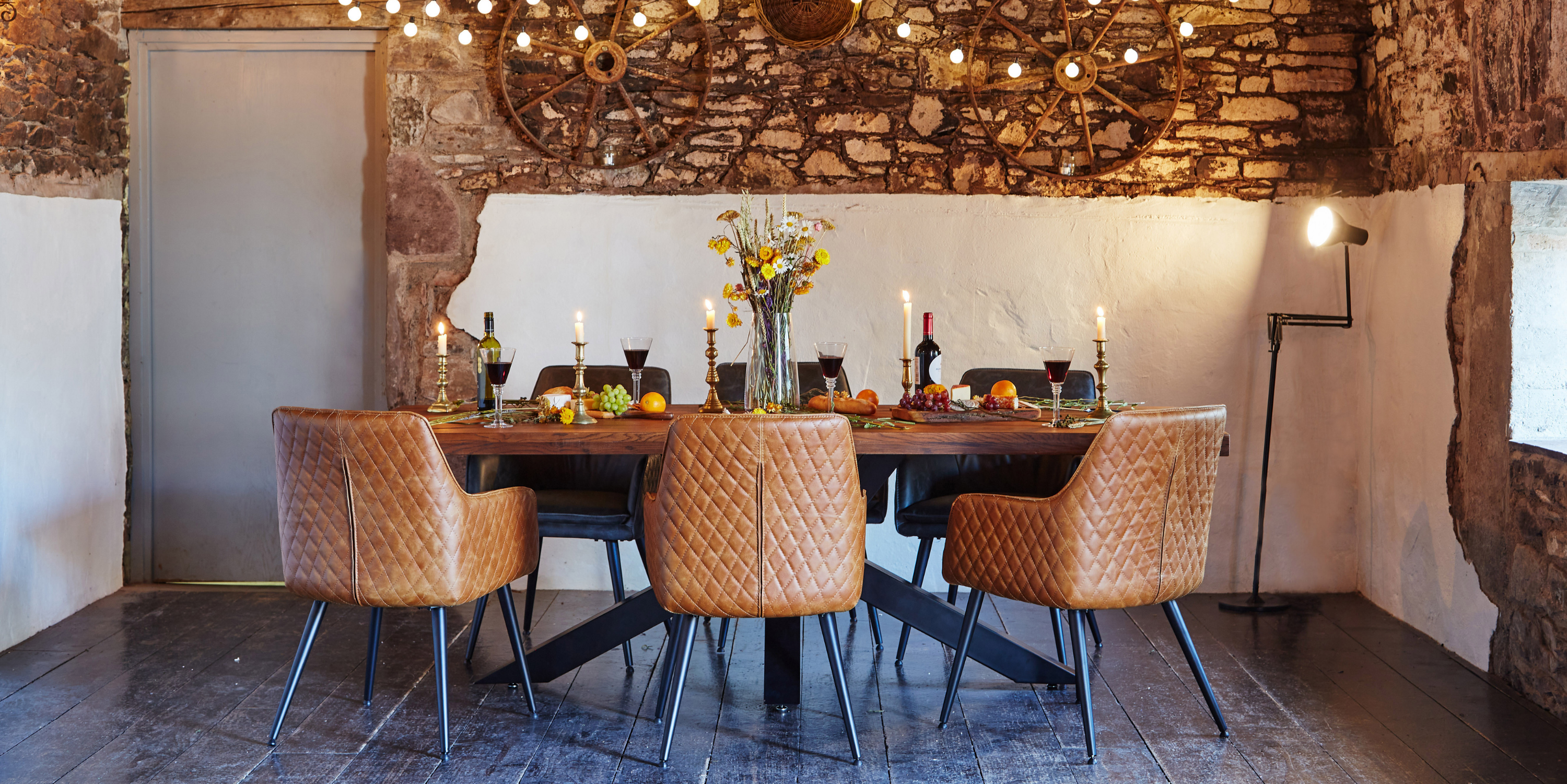 Both of our Heathfield chair pairings come in different colours so you can go for mismatched chairs – either swapping out the two chairs are the head and foot of the table or go all in with different combinations for a more eclectic look.
Phoenix & Mara
Our beautiful Phoenix Oval Dining Table offers a stunning blend of contemporary and elegant styling to deliver timeless versatility. With an Indian walnut wood design finish and polished brass details it's a firm favourite. This also comes in a smaller round size to fit smaller spaces.
Styled with our Mara Dining Chair they make a perfect pair.
(The Mara Dining Chairs come in Cappuccino and Grey Ecopelle)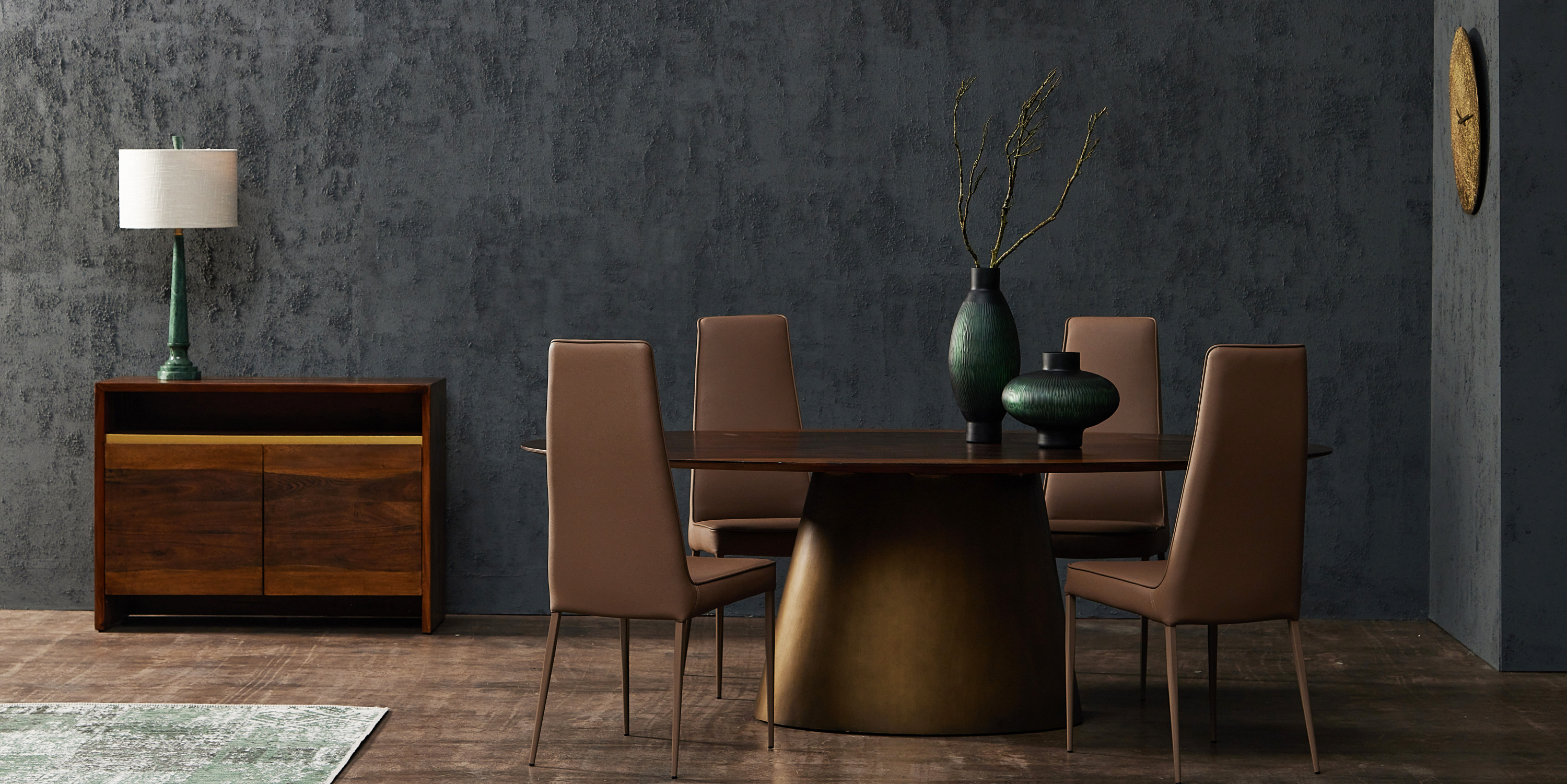 Phoenix & Bethany
Another elegant and stylish match with our Phoenix table is the Bethany chair. Sleek and simple with beautiful gold legs. These bring out the timeless and sophisticated design of the Phoenix.