How To Create A Family Friendly Outdoor Space
---
A family-friendly outdoor space offers a little bit of something for everyone – a place for playing, socialising, eating and – of course – relaxing. Need some help getting started? Read on for our tips to help you design your dream setup this summer.
1. Have a designated dining space
Before picking out you table and chairs, consider your space and what you want it to do for you. If you have a smaller space like a patio or balcony, then go for something small and compact such as this Bistro Set. Or if you have a larger space with a lot of room to utilise you can go for a spacious corner set with lots of seating.
2. Be sun smart
If you're spending a lot of time outside, it's important to make sure that you can enjoy the warm weather but also that everyone is protected from the sun. Create a shady spot with a parasol over the table or angled over the outdoor sofa to provide a space to keep cool and have a break from the sun.
3. A spot for snoozing
Family life can be hectic, so it's important to create a space that you (and the kids) can escape to. Adding a hanging chair is a fool proof way to turn an unutilised corner of your garden into a space to relax. Adding throws and cushions can up to comfort. If you have a bit more space to work with a day bed is the ultimate napping addition.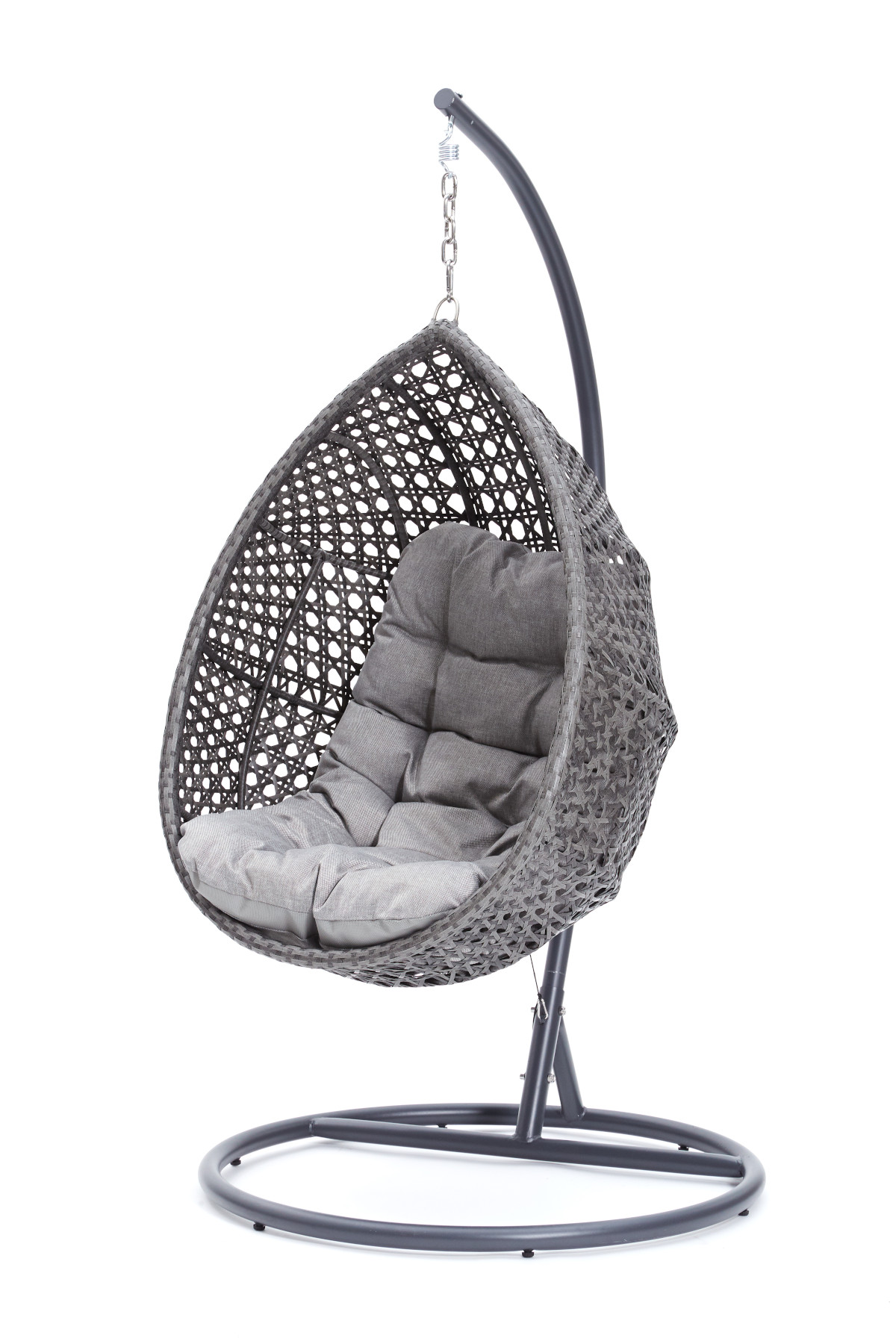 Zamora Single Hanging Egg Chair
*To preserve the longevity of your garden furniture, store parasols and cushions away during wet or windy weather and store away when not in use. This garden range comes with a 2 year warranty. Cushions and Parasols come with a 1 year warranty and all products used in a domestic environment.Beautifully contoured seat shapes deepen the accommodating appeal of the Zamora range, a rich and relaxed garden furniture collection whose weather-resistant weaves will add to your outdoor areas all year round.Frame: SteelWeave: Storm GreySeat Cushions: Ash GreyHand woven12mm hook weaveDeep-filled, piped seat cushionsWeather-resistant Set Contains:1x Single Hanging Egg Chair: W105 x D105 x H195cm
Was €965.00 Now €499.00
In Stock
4. Date nights
Spending quality time together without the kids is important. So, dial up those date night vibes with a sink-in garden sofa. Looking to serve some food and drink? This corner set has a lovely dining table with built in firepit to keep warm and add some ambient lighting in the evenings and night. How romantic.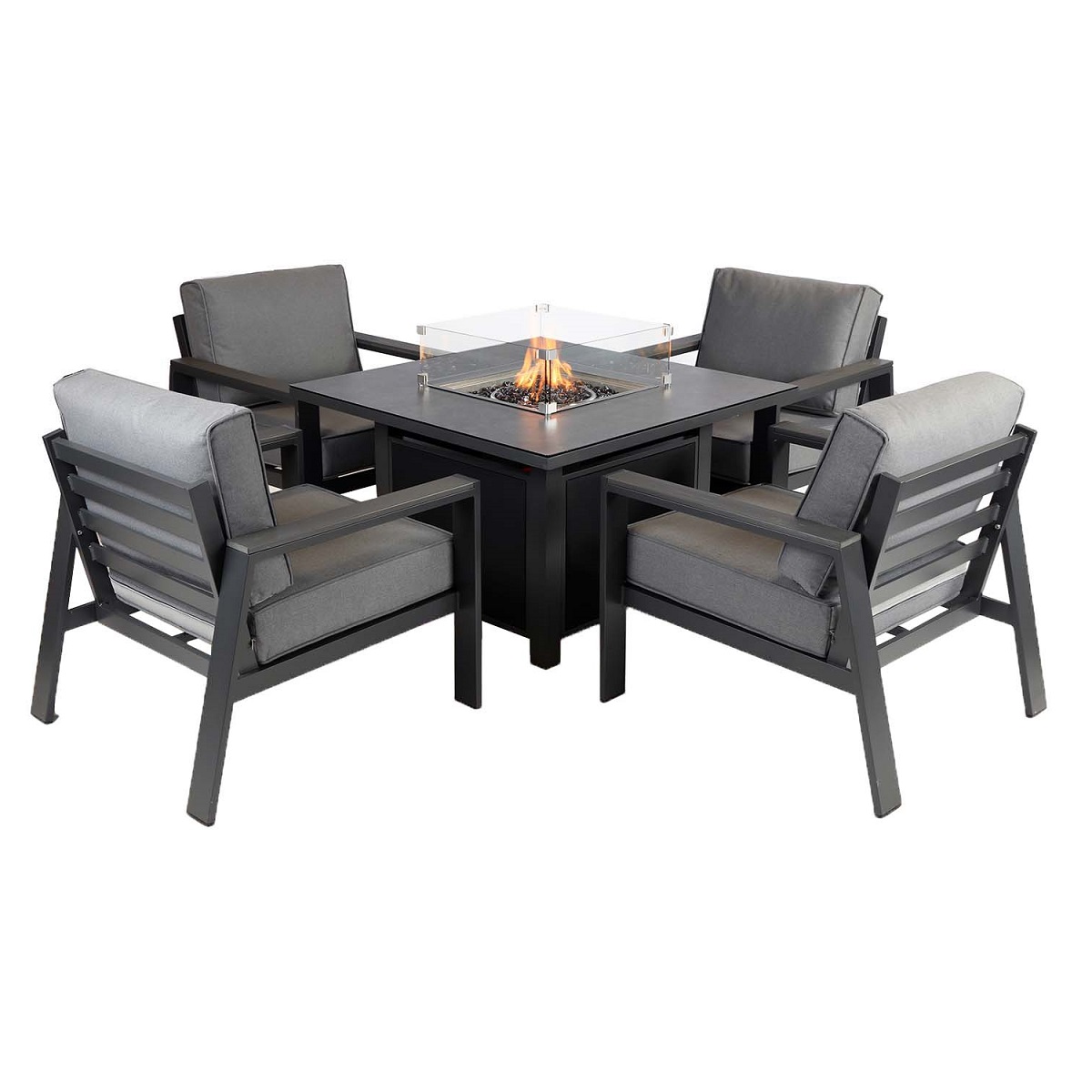 Costa 4 Seat Square Firepit Set
*To preserve the longevity of your garden furniture, store parasols and cushions away during wet or windy weather and store away when not in use. This garden range comes with a 2 year warranty. Cushions and Parasols come with a 1 year warranty and all products used in a domestic environment.The Costa Range boasts clean lines and a sleek modern frame, perfect for the garden of a contemporary-styled home. With plush cushions to sink into at the end of a long day, this garden range is perfect for entertaining on those long summer evenin gs.Fabric: Slate GreyFrame: Charcoal GreyGranite table topOnly 5kg Propane gas bottle must be used. Set Contains:1x Firepit Table: W104 x D104 x H67cm4x Lounge Chairs: W78 x D82 x H95cm
Was €4,599.00 Now €2,299.00
In Stock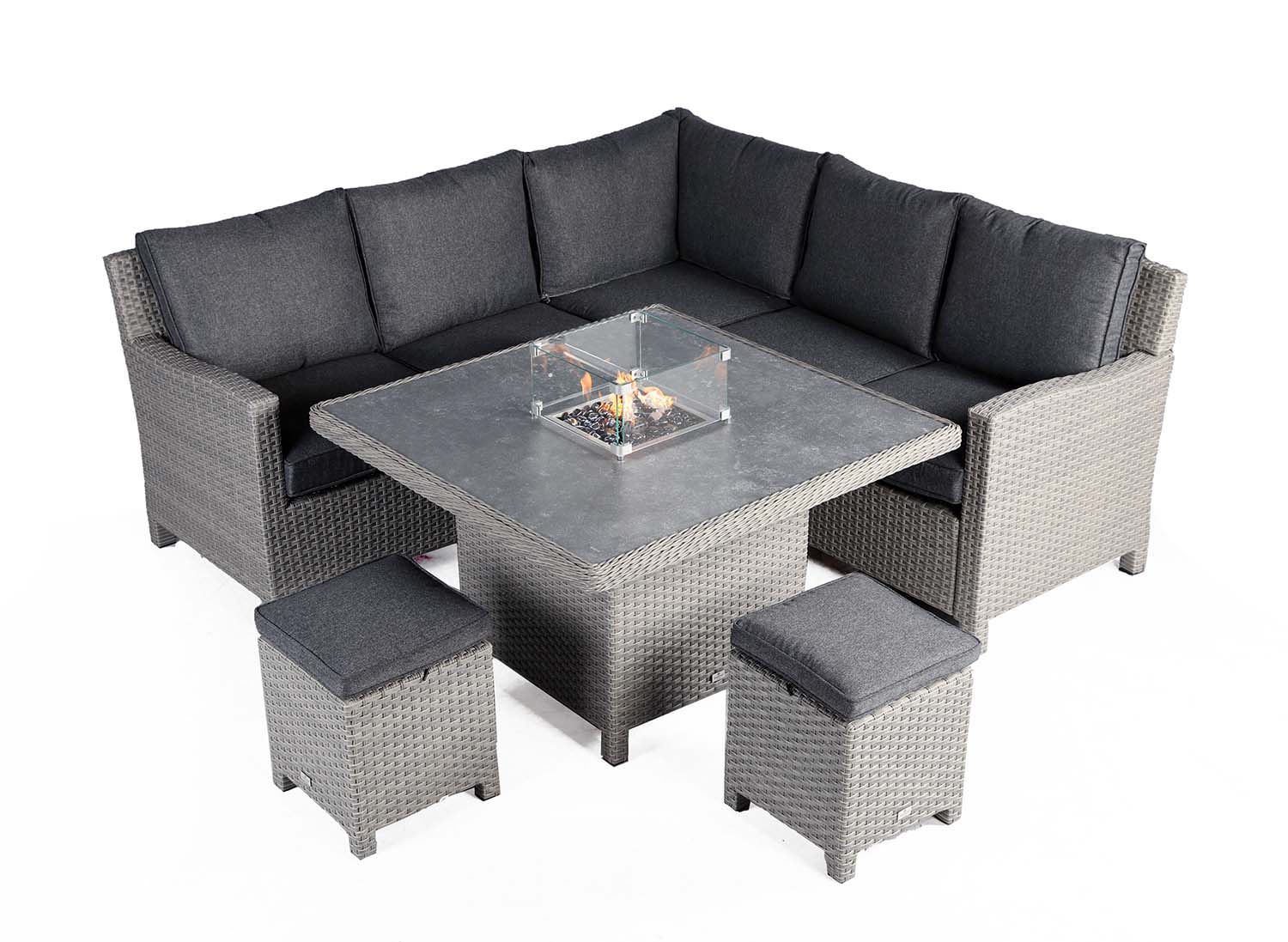 Malaga Mini Modular Firepit Set
*To preserve the longevity of your garden furniture, store parasols and cushions away during wet or windy weather and store away when not in use. This garden range comes with a 2 year warranty. Cushions and Parasols come with a 1 year warranty and all products used in a domestic environment.Made from aluminium frames and a hand-woven rattan, the Malaga range is a luxurious range that can accommodate intimate outdoor tea for two to larger casual dining sets with all the special featuresFabric: Urban BlackFrame: Pebble WeaveGranite Table TopGas-powered firepit with strengthened glass surroundAll-purpose, weather-resistant garden furniture Set Contains:1x Firepit Table: W110 x D110 x H68cm2x Footstool: W37 x D37 x H40cm1x 1 Arm Sofa: W120 x D76 x H85cm1x 2 Arm Sofa: W205 x D76 x H85cm
Was €5,535.00 Now €2,899.00
Low stock