Finance Calculator
Purchase price excluding delivery & deposit 10% required.
| Months | Payment | Deposit | Interest | Total |
| --- | --- | --- | --- | --- |
| | | | | |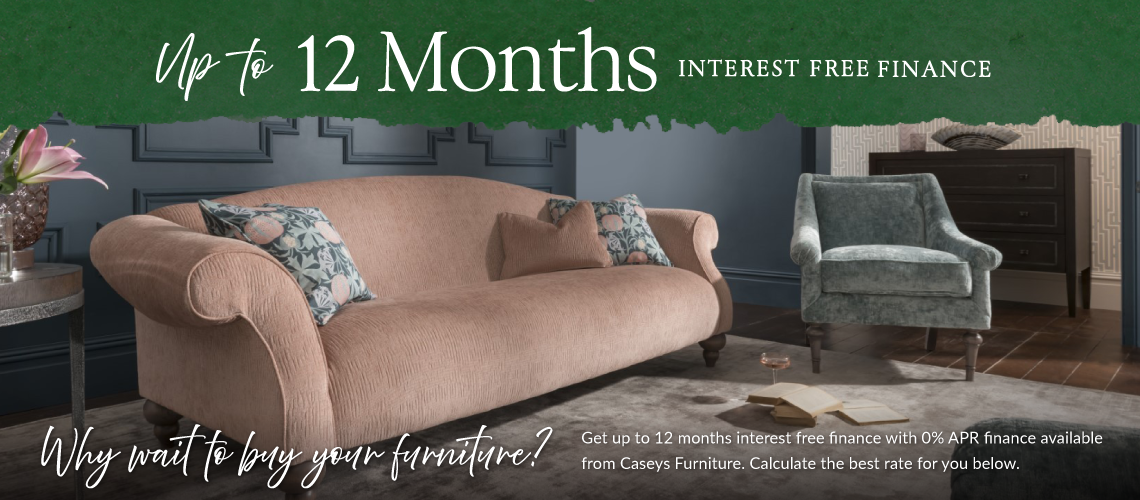 How It Works
Simply pick the pieces that you love and bring all of the required documentation to your nearest Caseys Furniture showroom where a member of our expert sales team would be delighted to assist you in filling out your application. Once your application has been approved, we require a 10% deposit and we can then arrange for your brand new items to be delivered to your home. Please note that to avail of this offer you must spend a minimum of €500 to a maximum of €15,000
Am I Eligible?
Are you between the ages of 18-85 years old?
Are you a resident of the Republic of Ireland for the last 3 years minimum?
Do you have a regular source of income that adheres to the following criteria:
Full-time employment
Part-time Employment (Up to 16 hours per week)
Self-Employed
Retired or in receipt of disability allowance
Will I Get Approved?
---
Creation is the finance provider and makes the final decision based on information from the Irish Credit Bureau (ICB). This is not a decision made by Caseys Furniture.
You must have the documents outlined above and you meet the previously listed terms.
If you have been approved for Credit in Ireland or in the UK in the last 2 years and you have a positive credit history using any other form of credit (credit card, bank loan, mortgage or car loan) your chances of approval will increase.
There is no guarantee of approval and in the unlikely event that you are declined; we can provide you with information and contact details for the ICB. For privacy reasons, Caseys Furniture are not made aware of the reason for the finance decline and therefore will be unable to discuss this to you. creation can advise you further on this matter.
The Essentials
Please ensure that you have all of the below with you when you visit us to fill in your application:
---
A 10% Deposit
Original copy of proof of address dated within the last 3 months in one of the following forms:

Credit card statement showing applicants name and address. Recent utility bill: Water / Gas / Electric / Fixed line telephone / Council tax.

Photographic identification.The following are the ONLY acceptable forms:

Valid Irish or UK Passport
Valid no Irish or UK passport.
Complete Full Irish or UK Drivers License
Valid non Irish or UK Driving License

*Please note: Origional copies are essential. Photocopies of the above will NOT be accepted.

An Irish Bank Account which supports Direct Debit.
The account must be in the name of the applicant.


A fixed landline telephone number.
Both home and work fixed lines are relevant.
Mobile phone numbers alone will not be accepted.
Proof of PPS number
Correspondence from DSP or RC, Medical/Drug Payment Card, P21, Tax Assessment, Notice of Tax Credits, Payslip, P60/P45, Receipt of Social Welfare Payment.